Alzheimer's and Dementia Care
In Home Care St Louis is dedicated to preserving the happiness and independence of seniors living in their own homes
Alzheimer's and Dementia Home Care St Louis
Among the tens of thousands of seniors that we help, 18% of them suffer from various forms of dementia. Because of this, In-Home Care St Louis is dedicated to preserving the independence of these seniors in their own homes. We understand the struggles that families face when caring for a senior with Alzheimer's or dementia, especially when it comes to helping them live at home safely.
Our specially trained caregivers engage clients in intellectual, physical, and emotional interactions, which compliment medical treatment and improve the seniors' quality of life.
We can help care for your loved one at home, providing you with the support that you need. For example, we believe that everyone should experience connection, purpose and uplifting moments, no matter their age or what level of care they require.
By choosing In-Home Care St Louis, families receive the following:
Trained dementia caregivers
Family education to better understand dementia care
Tasks built into the care plan, which are intended to engage seniors physically, mentally, and emotionally
In-home services such as personal care, companionship, medication reminders, and family respite care
SafetyChoice® in-home safety technologies, including medical alert systems and motion detectors


Most importantly, we understand Alzheimer's care. We understand dementia symptoms and how they affect behavior, which progress at different rates for different seniors. As a result, we follow an individualized care plan that focuses on both physical and mental needs.
Here's How In-Home Care St Louis Caregivers Can Help with Dementia Care / Alzheimer's Care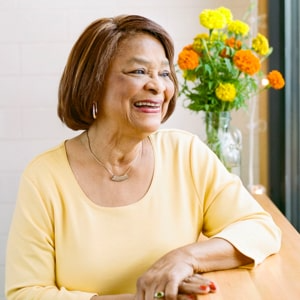 Our caregivers are screened for compassion and are prepared to assist seniors with Alzheimer's sickness or dementia. Our caregivers are prepared to explore many different types of approaches, therefore, in order to improve the mood of customers and their families.
Likewise, our caregivers practice In-Home Care St Louis' unique Interactive Caregiving system. With Interactive Caregiving, we become acquainted with our customers on an individual level first. We learn about preferences, dislikes and even past experiences the senior's day to day life. As a result, we've created exercises that mimic both mental and physical work. Therefore, our customers and guardians create real relationships. They regularly tune into music from the senior's favorite era, read beloved books, or even do memory practices such as glancing through family photographs.
Above all else, we can provide:
Individualized care plans that emphasize physical and emotional care needs and objectives
Exercises that bring happiness, give mental incitement, and support physical and mental prosperity. Created for your loved one's inclinations and abilities, these exercises are incorporated into the arrangement of care in order to improve personal satisfaction and wellbeing
Support for doctor recommended sustenance and exercise programs, friendship, rest care and different requirements
Reference to clinical experts, uphold gatherings and assets for the family guardian
Step by step instructions to Care for Alzheimer's Patients At Home


It is important to be adaptable when focusing on a friend or family member with dementia. The Mayo Clinic provides tips for every day practices and how to focus on someone with dementia, including:
Decreasing dislikes
Being adaptable
Establishing a safe climate
Zeroing-in on individualized care


In addition, In-Home Care St Louis home care can help you work through these proposals in order to establish the most ideal climate and care plan.
Finally, our dementia caregivers are prepared to give Alzheimer's and dementia care St Louis services for long-term commitments. We support real, caring connections, and create care plans that develop with the senior's needs.